Pimp your ride and put an end to constantly replacing broken plastic chainguards and mudguards on your Brompton folding bike
We've taken over production and distribution of the superb alloy chainguards and unique alloy mudguards for the Brompton invented by Graham at Tiller cycles. All our products are proudly made in England and are available exclusively from us.
We're perfectionists: if it's not good enough to fit to one of our Brommies, we don't sell it.
Coloured Metal Replacement Chainguards.
Laser cut coloured chain guards and mudguards for your Brompton in powder coated aluminium alloy matched to your frame or mirror polished stainless steel.
Available for both fixed and spider chainrings – they fit all Bromptons ever made. Will never fall off or snap! No more oil stained trousers…
Replace your plastic chain guard with a classy new coloured metal one. See here for the fitting guide. Click the picture below to purchase: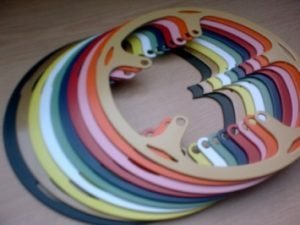 If you can't find the colour you need, message us and we'll make you a custom chainguard in your size!
Customers' Brommies sporting our Brompton mods:
Coloured Metal Replacement Mudguards and Fenders.
L-type (no rack) mudguards are back in stock in limited numbers, although new stock has just started to filter through and is being photographed: we've more stock than on the site at the moment. To reserve a set of L-type mudguards in a different colour email us and we'll let you have a set that have just arrived before they are on the website.
We do have stocks of rack-type replacement alloy coloured mudguard / fender blades, with stainless or carbon fixing options. If your bike already has Brompton mudguards, simply retrofit the blades (they work perfectly with the existing Brompton fixings currently holding on your brittle plastic mudguards). To take your naked E type Brompton without mudguards all the way to an R type with rack and mudguards add new Brompton stainless mounting stays, or go for superlight titanium.
Brommiemods mudguards are designed to work perfectly with the larger tyres fitted to some Bromptons (the Schwalbe One or Continental Urban). Made in aluminium alloy for strength and powder coated to match your frame (or go for a contrasting colour for a unique look).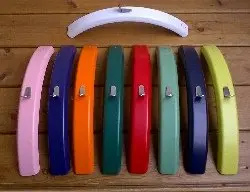 Hand made with love and care in small batches. We will provide mudguards for L type (no rack) or R type (rack) Bromptons in any colour you specify as a custom build – they work with any tyres that fit your rims. Some colours are in stock for immediate dispatch or you can email us a custom order and we'll make your mudguards and powdercoat in any colour for a small additional charge in about 10 days! Worldwide shipping.