Fed up replacing broken plastic chainguards and mudguards on your Brompton folding bike?
We've taken over production and distribution of the chainguards and mudguards invented by Graham at Tiller cycles. All our products are proudly made in England. We're perfectionists: if it's not good enough to fit to one of our Brommies, we don't sell it.
Laser cut coloured chain guards for your Brompton in powder coated aluminium matched to your frame or mirror polished stainless steel.
Available for both fixed and spider chainrings – fits all Bromptons ever made.
Buy here:
If you can't find the colour you need, message us and we'll make you a custom product!
Customers' Brommies sporting our Brompton mods:
Replace your plastic chain guard with a classy new metal one. See here for the fitting guide. Click the picture below to purchase: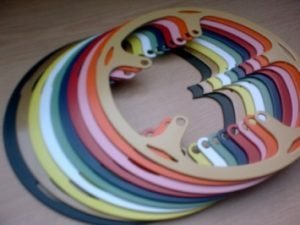 Coloured Metal Replacement Mudguards and Fenders.
Now available we have very limited stocks of replacement coloured mudguard / fender blades, with new Brompton stainless mounting stays or just the blades (they fit perfectly with the existing Brompton fixings). The mudguards are made in aluminium for strength and powder coated to match your frame. These are being hand made in very small quantities. We will provide mudguards for either R type (rack) or L type Bromptons in any colour you specify as a custom build. Buy while you can or email us with a custom order!